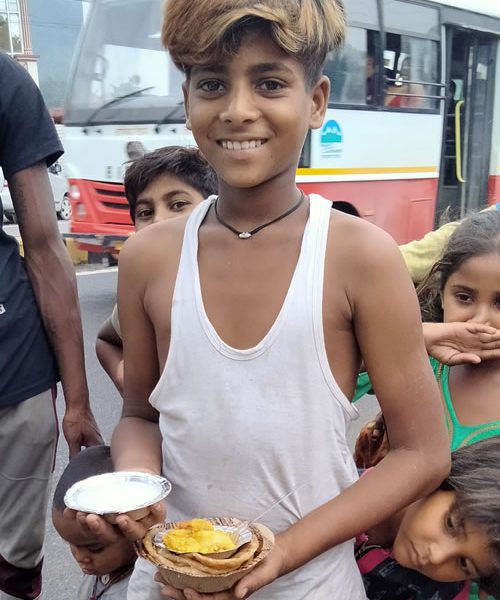 About 69% of Indians subsist on less than US$ 2 a day; 7,000 die every day due to Hunger. In India, food is still a luxury, but unfortunately, these people do not have a voice. Their religion is Hunger, GOD their food…! And their famished bodies are their places of worship.
During Covid lockdown in India, 100 million families have been denied their source of Livelihood – making Hunger one of the major threats and issues for underprivileged families.
Here, in Uttarakhand, Bihar and Uttar Pradesh too, life came to a standstill, even for students of PANKH. At once, we initiated PANKH – Hunger, Health & Hygiene Project, wherein we arranged and distributed Ration kits, mainly comprising of Atta, Rice, Biscuits, Soybean, Pulses, Oil and Potatoes . Beneficiaries included stranded labor from adjoining states as well. They had been working in construction sites. Other beneficiaries include Sadhus and pavement dwellers
Our Health & Hygiene kits included bathing soaps, toothpastes, hand wash, hand sanitizers, gloves and face masks. Homeopathy medicines were also offered. 
Lastly, in this project we must not forget the component of our Cooked Meals Program, which we conduct on a weekly basis. Recipients are glad to receive fresh meals comprising of poori, sabzi and kheer, duly packaged as per their convenience.
In the last 2 years , we could cover 4500 beneficiaries, and by God's grace, many more to come..!