General Knowledge & Quiz Competitions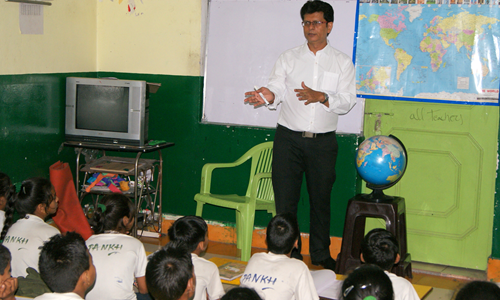 Focus is upon General Knowledge (GK), covering India as well as the world. Quiz Competitions are held from time-to-time to test the abilities of students. Having General Knowledge on the fore, students have started exploring amazing facts about different World Cultures. Topics range from Political & Physical Geography, History & Political Science, besides Culture and Linguistics, and not forgetting Cuisines, Music, Dance, or Art Craft.
Kids of PANKH – The Creative School are proficient in Yoga and have often wonderfully staged them. Their lessons are based as per the 8-limbed Patanjali Yoga. Yoga Mattresses & Props are provided to the students. A Yoga hall is dedicated to them, where they have their intensive weekend Yoga program under expert guidance.
It's a pleasure that Pankhites take keen interest in learning Computers. Separate Computer Room having Computer Desks and Internet facilities have been provided. At present, Students are quite aware of MS Office Word, MS Power Point and MS Excel. They have also grasped Text Animation and Video Editing from one of our Japanese Volunteers. The students have successfully made their first short film of Water Conservation titled 'Boond' which is uploaded on YOUTUBE. Our senior students our also undergoing a Course in Coding, HTML and TALLY as well. Printer and auxiliary facilities are made available.  Students are also encouraged to spend quality time in their Library browsing through interesting books and journals.
Generally, it is not easy to prepare a meal for more than 100 people a day, the manual way. During normal times, Midday Meals are offered 3-4 times a week within School Premises of PANKH. Elaborate cooking arrangements are made beforehand, viz. selection of large cooking and serving utensils, pressure cookers and gas cylinders.
To say the least, it means arranging cereals, vegetables, spices and oils beforehand. Water for cooking, cleaning and drinking purpose is arranged previously. Then comes preparing and frying more than 400 pooris and papads; cleaning, peeling and cutting of 10 kg of potatoes, and other fresh vegetables. And then 5 kg of rice, 25 packets of milk to prepare rice and kheer; Green peas and paneer is used in sabzi and pulao. Again, if it is rajma or chholey, it has to be soaked previous evening.
Remember, the cooking has to be completed by 12:00 noon, the children fed probably in 2 batches – meticulously so that there's least wastage and clutter. Parcels are packed and delivered to the kids to take back home. Lastly, all utensils are cleaned, and the eating and cooking spaces cleaned up.
Dustbins are used for proper disposal of wastage.  Wherever required, refrigerators are used – even for leftovers, which are consumed very next morning. There's hardly room for errors and mess as it involved feeding little children. Only organic pattals, katoris, glasses and spoons are used; we don't use plastics…
Facilities of Indoor Games are provided to students comprising of Badminton, Carom, Chess, Ludo, Puzzles, Building Blocks, among others. Apart from academics, these facilities are quite necessary – especially for junior students who take keen interest in them during the week-ends.
PANKH – The Creative School has a dedicated Art & Crafts cell – where Pankhiites flow in their creative abilities. Till now, we've carried out Painting upon various formats viz. Paper, Canvas, Jute Bags, Pottery, Baskets, Aluminum, and Glass. A lot of these products have also been appreciated by Foreign Nationals. Kids since the age of 10 take keen interest in Art & Craft, which helps them to cut off from their otherwise mundane existence. Crafts have also been taught to them, crafts which we regularly use as props during our various Events and Festivals
A dedicated Stitching & Tailoring cell has been created at PANKH – The Creative School, and which has a number of Sewing Machines, including a Fashion Maker. Textiles and accessories for making Dresses, viz. Threads, Needles, Training Tools & Packing materials have to be kept in stock. An experienced teacher is there to guide the girls in honing their skills. At the moment, these girls can design basic Frocks and Salwar Suits.
PANKH has several dancers to boast of, both male and female, and who've painstakingly been trained by teachers. Apart from contemporary and Bollywood numbers, they're able to indulge in Folk Dances such as Bhangra, Ghoomar amid ease. The students have showcased their dancing skills on stage more than often.   Some of our students have even received awards from different organizations. Trainers from the Classical genre are also invited.
PANKH – The Creative School, Rishikesh observes numerous Events and Festivals. To name a few: Republic Day, Holi, Independence Day, Krishna Janmashtami, Teacher's Day, Gandhi Jayanti, Dussehra, Diwali, Children's Day and Christmas Day.  Pankhites  also love to celebrate Founder's Day and Co-Founder's Day. All these events are not mere rituals rather an opportunity for Pankhites to showcase their talents. Guardians and our esteemed Donors and well-wishers are invited. This provides our management an opportunity to interact with them.
PANKH –The Creative School often takes out their students for excursions. They've been tagged along to nearby Haridwar and Roorkee, as well as local spots in Rishikesh. At Roorkee, they'd the privilege to visit the famed IIT, and at Rishikesh to Laxman Jhula, and THDC.